Scrimshaw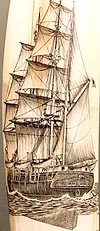 Charles W. Morgan



FRIDAY HARBOR ART STUDIO HAS MOVED IN 2017 To a home Studio location at:
321 GENESTE STREET, FRIDAY HARBOR, WA 98250


Same phone and email addresses and the new location is just 2 1/2 short blocks from the old location.


PLEASE CALL, EMAIL or TEXT FIRST





Custom PICTURE FRAMING services continue to be available by appointment.





Please call 360.378.5788, email howierosenfeld@gmail.com or text 360.472.1053.



DIRECTIONS: From Spring St. go S on First St. past top of the Ferry Lanes and it turns into Harrison St. Go past A, B and C Sts, the very next St. is Geneste. Turn right and it's the second house on the RIGHT and the Studio is set back on left side of house directly opposite the 321 mailbox. The arrow on the mailbox points directly to the Studio which has a star, like above, at the peak.


ARTWORK: Years of sailing on traditional ships, schooners and sloops led to an all-encompassing interest into the construction, maintenance and handling of traditional sailing vessels. Sailing on a replica whaler led to the study of whales and participation in whale research. I've since established my credentials as an artist of sea life and historic ship portraits in scrimshaw, drypoint engraving and carving (Free Willy II amulet). Awards include four Mystic Internationals. I am a signature member of the American Society of Marine Artists (ASMA) since 1982. My studio/gallery, Friday Harbor Art Studio, has gone into its 24th and last year as a retail location. As noted above, we're moving.


Additional website: fridayharborartstudio.com

I have been doing custom scrimshaw for over 45 years. I specialize in ship/sailboat portraits but have done everything from people to horses to helicopters, as large presentation pieces, belt buckles, pendants and plaques. When I began whale's teeth had no commercial value and were being given away. At that time traditional scrimshaw had been repopularized by President Kennedy who had a collection on his oval office desk. Later, when ivory became controversial, I began to 'scrimshaw' copper plates which is drypoint engraving, a non-acid etching technique that dates from 1400. The engraved copper plate is used for pressing limited edition prints where each print is individually hand inked, wiped and pulled. As a professional picture framer, custom framing is also available using acid free, art conservation presentations. I sometimes add scrimshaws on antique piano keys, mammoth or fossil walrus ivory to the framed prints (click on About Me for more).

At this time I am not accepting scrimshaw commissions.


Ernest K. Gann, author and aviator (1910-1991), was represented by Friday Harbor Art Studio. Ernie's oil paintings, sketches and books, some signed, are available. An Estate authorized Giglee print Winter, North Atlantic is also available as a FHAS exclusive production.









Hand Colored Drypoint Engraving

Lady Washington and Columbia


Elsie and Columbia